On Friday, July 22nd, the UN Correspondents Association initiated the new UNCA Book Club series, bringing UN ambassadors, officials and journalists together.
Dr. Cass Sunstein, Robert Walmsley University Professor at Harvard Law School, kicked- off the event with his new best seller The World According to Star Wars.

United Nations Secretary-General, Ban Ki-moon, welcomed the author and guests that included UN Permanent Representatives, UN officials, staff and correspondents, and was presented with a copy of the book signed by Dr. Sunstein.
The event was moderated by UNCA Vice President, Ali Barada, and was followed by a Q&A and discussion with the audience.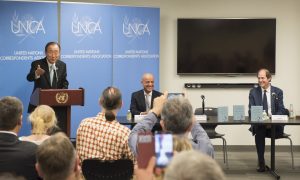 UN Photo/Eskinder Debebe
The World According to Star Wars
By Cass R. Sunstein
NEW YORK TIMES BESTSELLER
Synopsis
There's Santa Claus, Shakespeare, Mickey Mouse, the Bible, and then there's Star Wars. Nothing quite compares to sitting down with a young child and hearing the sound of John Williams's score as those beloved golden letters fill the screen. In this fun, erudite, and often moving book, Cass R. Sunstein explores the lessons of Star Wars as they relate to childhood, fathers, the Dark Side, rebellion, and redemption. As it turns out, Star Wars also has a lot to teach us about constitutional law, economics, and political uprisings.
In rich detail, Sunstein tells the story of the films' wildly unanticipated success and explores why some things succeed while others fail. Ultimately, Sunstein argues, Star Wars is about freedom of choice and our never-ending ability to make the right decision when the chips are down. Written with buoyant prose and considerable heart, The World According to Star Wars shines a bright new light on the most beloved story of our time.
Cass R. Sunstein AB '75, JD '78
Robert Walmsley University Professor
Cass R. Sunstein is the Robert Walmsley University Professor at Harvard Law School. He clerked for Justice Benjamin Kaplan of Massachusetts Supreme Judicial Court and Justice Thurgood Marshall of the U.S. Supreme Court. He worked as an attorney-advisor in the Office of the Legal Counsel of the U.S. Department of Justice and was a faculty member at the University of Chicago Law School from 1981 to 2008. From 2009 to 2012, he served as Administrator of the White House Office of Information and Regulatory Affairs. From 2013 to 2014, he served on the President's Review Group on Intelligence and Communications Technologies.
Sunstein is the author of hundreds of articles and dozens of books, including Republic.com (2001), Nudge: Improving Decisions About Health, Wealth, and Happiness (with Richard H. Thaler 2008), and Simpler (2013). His latest books are The World According to Star Wars (2016) and The Ethics of Influence (2016).
Sunstein received his bachelor of arts from Harvard College in 1975 and his doctorate in law from Harvard Law School in 1978.