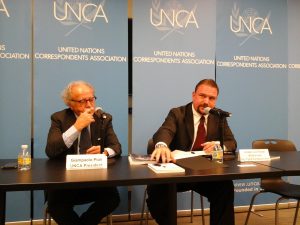 (Above from left: Giampaolo Pioli, UNCA President; Jordan Leo Foresi, author)
The U.N. Correspondents Association hosted a book presentation on July 11th, 2016, with Jordan Leo Foresi, Italian-American broadcast journalist, author, and television personality at Sky Tg24 in Rome, Italy on "The Age of Hatred: Islam, Iran and the New Middle East" which he co-wrote with national security expert Dr. Jack Caravelli.
BOOK SYNOPSIS:
The Middle East, always a cauldron of political instability and religious strife, in recent years has become ever more dangerous. The problems are numerous and varied, including a widening Sunni-Shia religious divide, the rise of the terrorist group ISIS which threatens the region while transporting its message of hatred into Europe and beyond, the ascendancy of Iran as a regional force, Russian military intervention in Syria and the loosening of US ties to former allies Israel, Egypt and Saudi Arabia. In the Middle East, these events have created an age of hatred. These factors also are transforming the Middle East into a hydra-headed threat to US and Western interests, posing a series of policy challenges that have yet to be fully articulated. In this landmark book, Caravelli and Foresi take a comprehensive, unvarnished and objective look at the political, military and cultural factors that are creating the new Middle East. Their insights will help shape the debate as America prepares for a new president while others in the West seek ways to enhance their own security.
BIOS:
Jordan Leo Foresi is an Italian-American broadcast journalist, author, and television personality at SkyTg24 in Rome, Italy. He was New York correspondent for the same network from 2006-2009. His areas of expertise also include European politics and the Middle East. He is the author of a previous book on the Middle East in Italian called IL CALIFFATO NERO.
Dr. Jack Caravelli is a national security expert, having served as a senior career officer in the US government, including postings on the White House National Security Council Staff, and at the CIA and Department of Energy. He is the author of three previous books on US foreign policy, including "Nuclear Insecurity" (2007), "Beyond Sand & Oil: The Nuclear Middle East" (2011) and "Il Califfato Nero"published in Italian in 2015. Caravelli is a visiting professor at the UK Defense Academy and has lectured at Oxford University. He appears regularly on national television and radio programs and is currently a Managing Partner for the Trilateral Group, an international consulting and advisory firm