(From left: Ahmed Fathi, UNCA Executive Member/Moderator; Bassem Youssef, Film Director Sara Taksler)
The United Nations Correspondents Association hosted a film screening on June 5th of the documentary "Tickling Giants" by Sara Taksler based on the Egyptian political satirist Dr. Bassem Youssef.
A Q&A with the filmmaker and Dr. Youssef followed the screening.
Tickling Giants (trailer here) tells the story of Dr. Bassem Youssef, the "Egyptian Jon Stewart", who decides to leave his job as a heart surgeon and become a late-night comedian. The movie is about how he finds creative, non-violent ways to protect free speech and fight abuses of power. The NY TIMES called Tickling Giants a "first-rate documentary", Variety called it "An ebullient ode to freedom… a terrific movie" and we currently have 100% on Rotten Tomatoes! Tickling Giants is available on June 13th at http://www.ticklinggiants.com/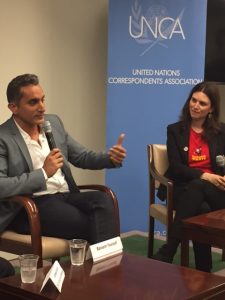 About Bassem Youssef:
Bassem Youssef, dubbed the Jon Stewart of the Arab World, was the host of popular TV show Al Bernameg – which was the first of its kind political satire show in the Middle East. Originally a 5-minute show on YouTube, Al Bernameg became the first online to TV conversion in the Middle East and the most watched show across the region with 30 million viewers every week. In June 2014, and after a six-week break, Al Bernameg team held a press conference where Youssef announced the termination of the show due to overwhelming pressures on both the show and the airing channel. Youssef's most recent projects include Democracy Handbook; a ten-part series exploring topics of democracy on fusion.net, and the launch of a new book, Revolution for Dummies: Laughing Through the Arab Spring in the spring of 2017.
About Sara Taksler:
A Senior Producer at The Daily Show with Jon Stewart, Sara Taksler has pitched stories and jokes, and researched footage for over a decade. Taksler directed and produced the feature documentary, TWISTED: A Balloonamentary,a hilarious and heartwarming look at the world's premier balloon-twisting convention, with film partner Naomi Greenfield. After debuting at South by Southwest, Hollywood Reporter called the film "A thoroughly winning feature" and Variety hailed it as "A feel good, irony-free celebration." Taksler's first film, Stop the Ignorance: The Beauty That Is New Jersey, was a tribute to her home state. Her latest documentary,Tickling Giants, had its world premiere at the 2016 Tribeca Film Festival. A graduate of Washington University in St. Louis, Taksler can talk backwards and has a remarkable fake sneeze.
Sara's favorite way of Tickling Giants: Using comedy to find a cathartic ways to process major bummers.