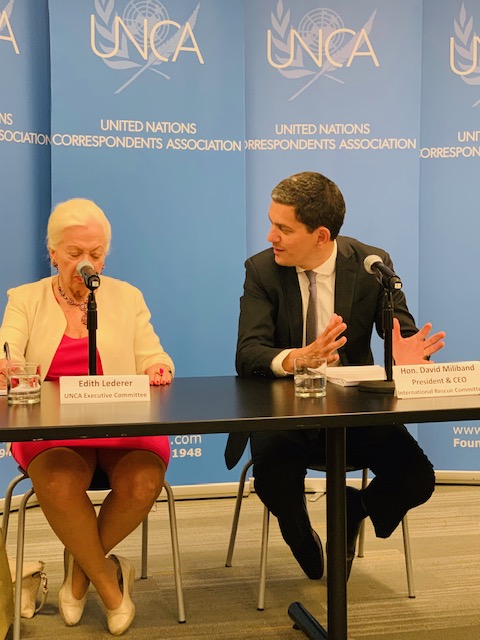 The United Nations Correspondents Association held a press briefing with Hon. David Miliband, President and CEO of the International Rescue Committee (IRC), following his intervention at the UK-sponsored event "Attacks on Civilians and Civilian Infrastructure in North-West Syria: What Does International Humanitarian Law Say?" at UNHQ.
Hon. Miliband also spoke to recent humanitarian developments in NE Syria, specifically conditions at Al Hol camp with new IRC data on child mortality and discussed refugees and the SDGs in the lead-up to the SDG summit.
BIOGRAPHY: David Miliband is President and CEO of the International Rescue Committee (IRC), where he oversees the agency's humanitarian relief operations in more than 40 countries and its refugee resettlement and assistance programs in 25 US cities.
From 2007 to 2010, Miliband was the 74th Secretary of State for Foreign Affairs of the United Kingdom, driving advancements in human rights and representing the U.K. throughout the world. In 2006, as Secretary of State for the Environment, he pioneered the world's first legally binding emissions reduction requirements. He was Member of Parliament for South Shields from 2001 to 2013.
Miliband's first book, Rescue: Refugees and the Political Crisis of our Time, was published by TED Books in November 2017.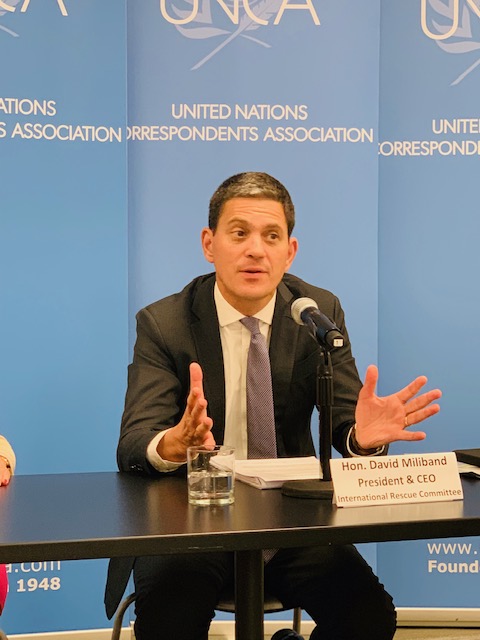 ABOUT IRC: The International Rescue Committee responds to the world's worst humanitarian crises, helping to restore health, safety, education, economic wellbeing, and power to people devastated by conflict and disaster. Founded in 1933 at the call of Albert Einstein, the IRC is at work in over 40 countries and 26 offices across the U.S. helping people to survive, reclaim control of their future, and strengthen their communities. Learn more at www.rescue.org and follow the IRC on Twitter & Facebook.
Follow David Miliband on Twitter: @DMiliband
Follow IRC on Twitter: @RESCUEorg
For more information please contact: Chiara Trincia,
Senior Communications Officer, IRC
Phone number: +16467713214
Email: chiara.trincia@rescue.org