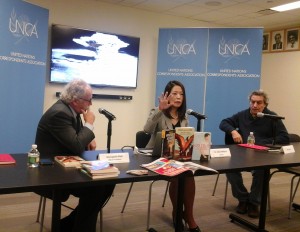 The U.N. Correspondents Association hosted a book presentation and discussion with Dr. Akiko Mikamo on her book, Rising from the Ashes: A True Story of Survival and Forgiveness from Hiroshima, on Monday, October 26th in the UNCA Meeting Room.
Dr. Mikamo is an author, medical psychologist and daughter of a Hiroshima survivor.
Her book has been translated in Japanese, Italian and will soon be published in Spanish and Polish.
Below is an introduction to her father's story as a Hiroshima survivor.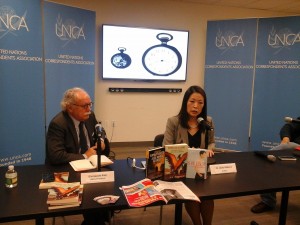 Shinji Mikamo was working on his father's roof in Hiroshima at 8:15 a.m. on Aug. 6, 1945 when the flash appeared 1,900 feet above ground and just 1,500 yards away. His skin partly melted, a gash in his leg and unable to fully open his eyes, Shinji and his wounded father roamed the pulverized city, stumbling over corpses and some still writhing bodies to seek relief in the Kyobashi River. They were two of the few survivors from so near Ground Zero. Three months later, Shinji could walk again. He went back to where his house stood. Digging through the debris he saw another flash. It was the sun reflecting on an object: his father's silver pocket watch. The watch's hands had been blown off. But the heat of the blast embossed the hands' image on the face in the permanent position of 8:15. In 1985, Shinji donated the watch to the permanent Hiroshima and Nagasaki exhibit at U.N. Headquarters so the world would know what an atomic bomb could do. Four years later, his daughter, Dr. Akiko Mikamo, visited Headquarters to see the watch and made an important discovery.