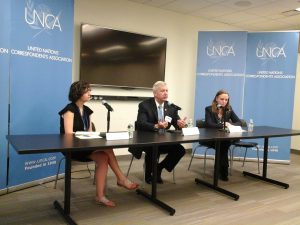 (From left: Emoke Bebiak, UN Correspondents Association Executive Member/Moderator; Mark Clookie; Clara Sommarin)
The UN Correspondents Association held a press briefing on Tuesday, June 22nd, on Combatting Cybersex Trafficking on a Global Scale, with Mark Clookie, Vice President, Investigations and Law Enforcement Development at International Justice Mission and former NCIS Director, and Clara Sommarin, UNICEF's Child Protection Specialist on Exploitation and Violence.
Mark Clookie, discussed the global fight to combat cybersex trafficking of children through a model of Justice System Transformation as well as IJM's current efforts to do so in the Philippines. Clara Sommarin covered trends in online child sexual exploitation and UNICEF's efforts to address this pressing global issue. She also discussed key findings from Perils and Possibilities, UNICEF's recent opinion poll on online abuse and digital safety.
The media advisory provides more details on the briefing.