The U.N. Correspondents Association held a press conference with international women peacemakers to announce their plans to walk across the Dimilitarized Zone between North and South Korea on May 24th, the International Women's Day for Peace and Disarmament, to call for peace and reunification of the peninsula.
The press conference took place in the UNCA Meeting Room, during the 59th session of the Commission on the Status of Women.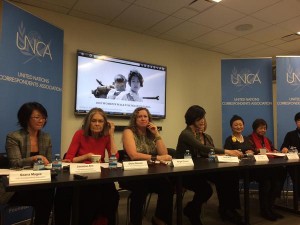 Speakers included:
Gloria Steinem, American author and Honorary Co-Chair of the international delegation
Abigail Disney, American filmmaker and philanthropist
Ann Wright, retired U.S. Army Colonel
Suzy Kim, Professor of Korean history at Rutgers University
Keum-ok Kim, Standing Representative of Korean Women's Association United
Christine Ahn, International Coordinator, "Women De-Militarize the Zone"
Hyun-Kyung Chung, Professor of Theology, Union Theological Seminary
Suzuyo Takazato, Okinawan Women Against Violence
Please see the PRESS RELEASE for more details.