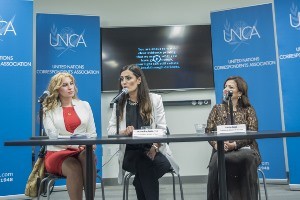 On Tuesday, June 9th, the U.N. Correspondents Association held a press conference with lawyers from Roads of Success on victims of persecution from ISIS captivity and advancing religious minorities and women's rights across the Middle East.
Speakers were:
Yvette Isaac, President of Roads of Success and renown Arabic television personality
Jacqueline Isaac, Esq., Vice-President of Roads of Success
Roads of Success is dedicated to supporting victims of crisis and; advancing religious minorities' and women's rights across the Middle East.
Jacqueline Isaac recently testified at the U.S. Congressional Foreign Affairs Committee on her visits to Iraq, sharing heart-wrenching and heroic stories. Since the emergence of ISIS, Yvette and Jacqueline Isaac have traveled to Iraq several times. Their missions have included: (1) trucking medical supplies and basic necessities through the warring zones and distributing the items to internally displaced persons in camps where survivors crowd into tents, abandoned buildings and to Yazidis on top of the Sinjar mountain; (2) holding workshops in an effort to heal, restore and empower the girls who have been raped and tortured while in ISIS captivity, and (3) spending time on the front-lines, witnessing the needs on the ground.
Past Media Coverage:
http://www.c-span.org/video/?c4537698/jacqueline-isaacs-speech-congress
http://www.huffingtonpost.com/thom-senzee/exclusive-preview-of-isis_b_7268388.html
http://abc7.com/politics/socal-woman-seeks-asylum-for-isis-rape-victims/592344/
http://www.nbcsandiego.com/news/local/Local-Woman-Brings-Attention-to-Plight-of-Girls-in-ISIS-Captivity-298980021.html
http://fox5sandiego.com/2015/04/07/local-woman-helps-young-girls-raped-by-isis/
http://www.video.theblaze.com/video/topic/97322792/v64850183/roads-of-success
Contact: Jacqueline Isaac (626) 536-7685