The U.N. Correspondents Association hosted a press conference with Physicians for Human Rights (PHR) on Wednesday, March 11th to launch their report titled "Doctors in the Crosshairs: Four Years of Attacks on Health Care in Syria".  The launch took place in the UNCA Meeting room in the United Nations Secretariat Building.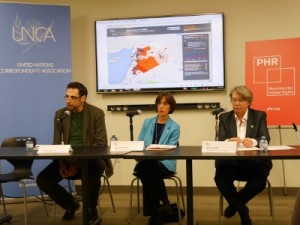 Speakers included:
Donna McKay, Executive Director, Physicians for Human Rights
Widney Brown, Director of Programs, Physicians for Human Rights
Dr. Majed Abu Ali, Syrian American Medical Society
Susannah Sirkin, Director of International Policy and Partnerships, Physicians for Human Rights
The report was released on March 11 at 09.00 EDT in ENGLISH and ARABIC.
An interactive map on the Attacks can be seen HERE.
Dr. Majed Abu Ali is a dentist from Douma, in the Eastern Ghouta suburbs of Damascus, which has been under siege for the last two years. Since 2012, he has served as spokesman and public relations director for the United Medical Office of Eastern Ghouta, which coordinates the medical centers across the area. When he practiced dentistry and provided health care in Eastern Ghouta during the conflict, he witnessed and treated the horrific effects of siege, daily bombings, and targeted attacks on medical facilities and workers.