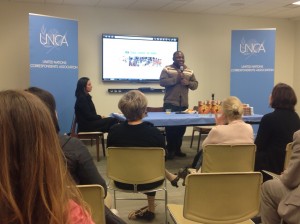 The U.N. Correspondents Association, in cooperation with the U.N. Staff 1% for Development Fund, hosted a book reading with Nigerian author Uwem Akpan on Wednesday, April 30th in the UNCA Meeting Room, to support "Authors for Literacy", which helps benefit literacy projects in developing countries.
Mr. Akpan read from his book Say You're One of Them, which is a collection of stories each set in a different African country told from the point-of-view of a child.  It was chosen for Oprah's Book Club in 2009 and reviewed in the New York Times.
The author's publisher (Little Brown & Company) donated 100 copies of the book for the event which were available for sale to support the literacy fund, and were signed by the author.